3 Steps to Enable Leaders to Become Talent Builders in a Post Covid World
We are in unprecedented times for finding, developing, and retaining talent. The pandemic has escalated talent issues to the top of leaders' agendas. Terms like the "Great Resignation" have been used to describe the challenges in attracting and retaining talent. Talent is core to human capability and better talent improves business outcomes. To address talent that impacts your business, start with an "outside in" view of how talent influences your stakeholders and how leaders can align and develop talent capability to deliver greater value, then follow these three steps:
1. Understand why developing talent is the most important leadership skill.
2. Build a leadership culture of developing people.
3 Steps to Enable Leaders to Become Talent Builders in a Post Covid World
Years of 360 research shows that developing people is the lowest rated skill of leaders.
Research by leadership guru Bob Eichinger who pored through thousands of 360 feedback results found that leaders' strongest rated attribute is their integrity. Of the 67 other items studied, "developing people" is the lowest rated skill. Given the criticality of talent, exacerbated by the heightened needs of today, there is a big gap between the need to find, develop and retain talent and the skills our leaders have to develop people. Building a culture of developing people is what attracts and retains the best talent. Without this culture, organizations find themselves in a revolving door of bringing talent in and then watching them exit because leaders are not giving them a strong enough reason to stay.
1. Understand why developing talent is the most important leadership skill.
RBL's research on 13,000 global leaders found that the single most important leadership behaviors, across all levels, was the ability to build talent. While some of these actions are the same across levels (providing resources, regular coaching, drawing key talent into the organization), it has an increasingly future-oriented perspective at mid- and executive levels. There leaders are looking ahead at what talent will be needed to execute future strategies and building capabilities in the organization that can be ready when needed. At more senior levels it also focuses increasingly on making connections (across and outside the organization, and ensuring the leadership skills on their own teams are strong. At all levels, leaders play a key role in building the talent that enables strategy to come to fruition.
2. Build a leadership culture of developing people.
Talent matters because it affects what goes on inside your organization (executing your strategy - as well as impacting what goes on outside your organization) creating a great customer experience, increasing investor confidence, and supporting community building.
The table below demonstrates four types of business outcomes an organization delivers: Business (Strategic), Customer (Customer Experience), Investor (Financial) and Community Results (Social Responsibility). Talent plays a critical role in all of these.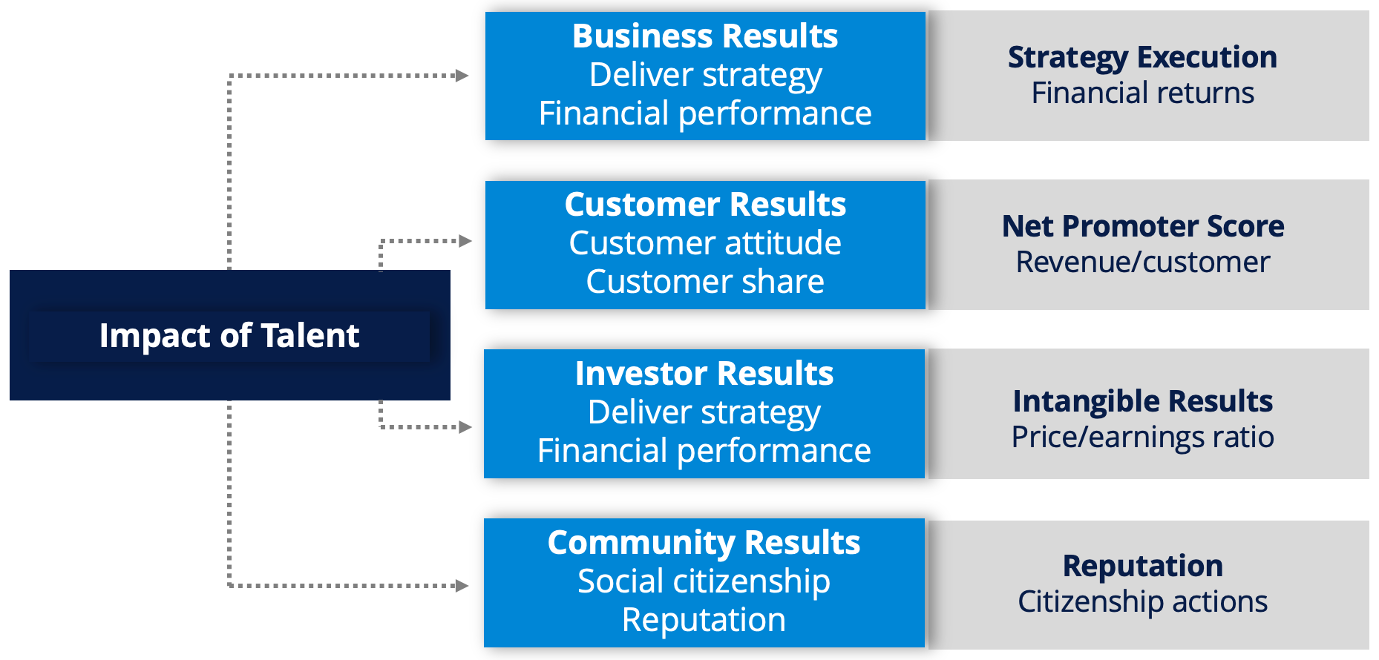 Inside the organization, your business has a strategy. To execute that strategy, you need people who are competent with the right skills in the right place, committed to work hard, and contributing effectively to building the business.
But talent also has an effect outside of the business. Talent directly impacts your customers, as many connection points with customers are delivered by people. Talent affects your investors, those who provide capital, through your ability to deliver attractive returns, and talent affects and shapes your reputation in the community. Talent matters.
3. Develop leadership that builds human capability.
New strategies shift the organization into new market dynamics, new supply chain requirements, alternative hybrid work environments, as well as new customers and geographies that require your people to work differently in order to succeed. Your role as a leader is to think through these new capabilities and how they impact your talent. You may need to reorganize, invest in education, acquire new talent and provide feedback. If you are unable to make this shift to build new capabilities consistent with your new strategy, the organization will flail until you do.
You should be intentional about aligning talent with your new strategy. How should you address new capabilities and outcomes? What does that mean for talent? What does that mean for the skillsets, behaviors, and actions you need? How do you help people get committed to make that happen? Your job as leaders is to architect a new talent capability with different ways of executing to make it happen.
Leaders are the lynchpin to talent transformation. They set the strategic direction and shape the required capabilities and skill sets needed. Leaders manage the talent lifecycle to onboard, develop, and retain talent consistent with new challenges. Your reputation in this matters because recognition as being a company that invests in talent, retains your current talent and attracts new talent.
Six keys to building better talent:
Over the last 30 years, RBL has helped thousands of organizations develop better talent. In doing so, we have found six key concepts that help leaders build their skills as talent managers:
Think "outside in" first, clarify strategy and then align capability and talent requirements to deliver.
Engage and empower individuals and teams through coaching to accelerate better business outcomes.
Manage the customization of work.
Find better ways to source, screen, develop, and retain talent.
Create a more diverse, equitable, and inclusive culture.
Increase engagement through developing and living your employee value proposition.
RBL's newest digital, cohort-based learning experience, The Talent Academy, is a 6-week guided learning journey that combines self-directed learning of these six elements with practical tools provided by Dave Ulrich and other leading experts with engaging group sessions that challenge leaders and HR professionals to apply and refine what they learn.
Conclusion
As your leaders learn and apply these concepts, they are better able to build the talent that creates capability. They are better prepared to build and retain current talent, anticipate and lay the foundations for future talent needs, and proactively respond to the changing demands of today's talent pool. To learn more about the Talent Academy and how you can better empower talent in your organization, contact us.